Back in 1994, social media wasn't even close to being invented. So how did people share their thoughts, feelings and photos of food? With a good old-fashioned blog post of course!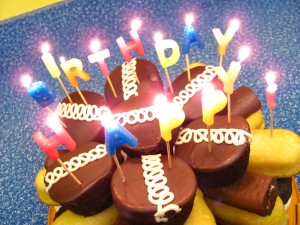 In 2014 blogs are still a great way for individuals to publish content online. You don't need to be techy and the internet makes it easy for you to find people with similar interests, and build an audience. Over the years blogs have become increasingly important for businesses. From a business point of view building an audience is imperative, as any member of this audience is a potential client. Because of this blogging is now an integral part of eMarketing.
Here are some snippets from "classic" posts that we enjoyed reading.
fromfatbloketotoughguy.blogspot.co.uk – July 2009
After a day feeling energised but aware I'd had a proper workout, Saturday started in the sort of slight agony that you can only hobble and laugh your way through. Happily though, after much cursing, the stiffness passed and the day improved rapidly with the realisation that not only was I able to bend over once again, I no longer needed to breathe in while zipping up my jeans.
amateurgourmet.com – Jan 2004
So despite my self-proclaimed ineptitude in the kitchen, I do have a knack for all things sweet and desserty. I'm a baker, not a fighter. One of my favorite cookie recipes comes from America's most beloved white collar criminals / domestic goddesses, Marthalicious Stewart. Available on her website for no charge (or the occassional insider trading tip) you will find the recipe for some wonderfully delicious cookies. I served these cookies to friends this weekend and their reactions were as follows:
"Mmmm!"
"Ohhhh!"
"Wheeee!"
mikesowden.org/feveredmutterings – Jan 2014
Ah, Yorkshire! The verdant sweep of its hills, the flatness of its caps, the award-winningness of its fish'n'chips, the sheer throbbing…
Forget all that. There's a problem here.
I've heard people – maybe people like you – say things like "isn't it a type of pudding?" or "is that somewhere in London?"
YORKSHIRE IS NOT SOMEWHERE IN LONDON.
Let's stop playing silly buggers and sort this out once and for all.
Don't argue, don't question, just get them down you or you'll get a bloody good wallop.
Aye.