Nouri.sh is a unique email newsletter solution. You can tailor the content and the look of the newsletter to fit your specific needs. Nouri.sh is a great way for sharing blog posts with your aficionados and is an equally good solution for internal email as you have the option to create multiple campaigns to target specific groups.
Yes, there are other similar products on the market but here are just some of the reasons why we stand out from the crowd.
WordPress Plugin
We have our very own WP plugin that adds a widget to your WP blog, allowing people to subscribe to your Nouri.sh newsletter campaign. You simply choose which campaigns you want to make available to your visitors.
To install, simply download this file, unzip and upload to your plugins directory within WordPress. Once installed you will see a Nouri.sh link in the menu, you simply input your username and password, choose the campaigns to make available (if you have more than one) and away you go!
Subscribe Forms
Getting new subscribers is important to the growth of your campaign. This is true whether you are an eCommerce business looking for an instant conversion, or whether you are just looking to remind someone about your brand. Here at Nouri.sh we have 3 different subscribe forms to help you grow your campaign.
For more detailed information about subscribe forms see here.
-Simple
The simple subscribe form is perfect for adding in to emails or posting on social media sites. Another great place to put this form is in your email signature.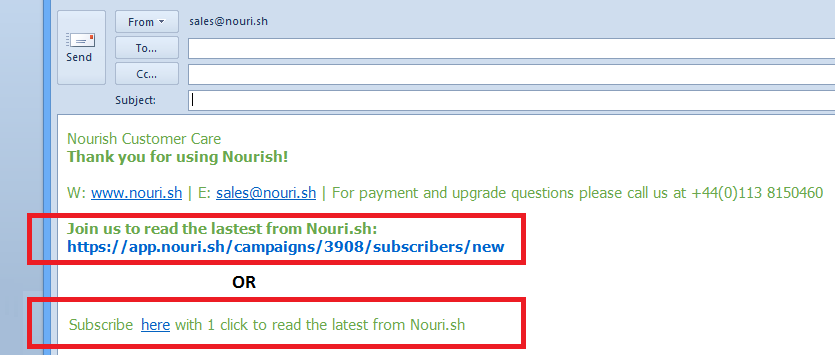 -Customised
You can provide individuals with a customised link which will automatically subscribe them to the campaign when clicked on. Be sure to edit the URL to include their real email address.
-Advanced
The advanced subscribe form is better suited to a webpage or blog page. In fact you can add this form in to any page that you wish by pasting the code in to your newsletter template.
Measurable Success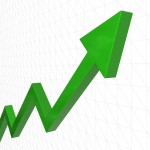 When you login to view your campaigns you have access to a variety of statistics. You can see how your subscriber base is growing and view metrics such as the open and click-through rates.
You can also measure the success of your newsletter using Google Analytics by editing the newsletter template to enable tracking. This allows you to dig even deeper in to what content your readers find the most relevant.
Nouri.sh is FREE
With Nouri.sh you can subscribe to our free plan and send up to 1,000 emails a month. You can also combine multiple RSS feeds to ensure content is highly relevant to your readers.
Unlike any other similar service out there Nouri.sh does not force you to upgrade to a paid plan after a 15 or 30 day trial. You can test Nouri.sh for free as long as you like with the same great support and customer service as you would expect from the paid plans.
Customisable Nouri.sh Plans
We also offer a selection of paid plans which we can help you to customise to meet your specific needs. The main benefit of signing up to a paid plan is that you can set up multiple campaigns, allowing you to segment your subscribers. This is imperative for creating reader specific content and allows you to tailor make emails for multiple subscriber groups.
Other great features include:
– More emails. You can currently send up to 100,000 emails per month on our Professional plan. If you are looking for an even higher volume please contact us: sales@nouri.sh
– Advanced subscriber management. You have enhanced management features giving you the ability to download/export subscriber lists for easy management
– Nouri.sh is flexible; it can be tailored to suit bloggers, businesses and is even a useful internal eNewsletter solution. Our team is here to ensure users make the most of Nouri.sh, so if there is something you would like that we don't currently offer then drop us an email to let us know.