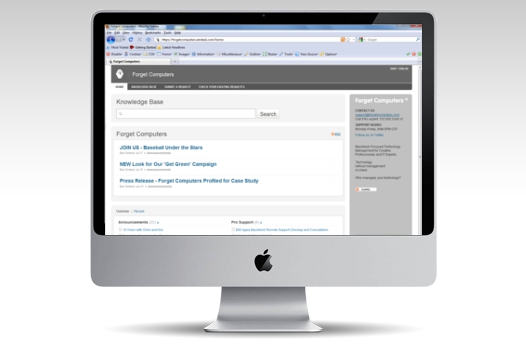 Forget Computers is a team of Apple support specialists, dedicated to helping people work smarter by managing technology. Notice the Nourish newsletter subscription box on their homepage, allowing visitors to stay updated on the latest tips, techniques and even Tweets! Yes that's right, Forget Computers have gone one step further by using Nourish to turn tweets into a weekly newsletter. Now that's cool!
Here are some interesting insights shared by Ben Greiner, Founder & Lead Consultant at Forget Computers:
Why did you want a Forget Computers' newsletter in the first place? 
We wanted a way for clients and our team to receive a weekly summary of our Tweets.
Why did you choose Nourish?
We choose Nourish because of its ability to quickly and easily take an RSS feed and convert it into a scheduled newsletter.
How easy was it to get going with Nourish?
We were up and running with a test newsletter in less than one hour.
Would you recommend us to friends/ colleagues?  
Yes.
How much has your web traffic increased thanks to Nourish? Do you see any change in figures already?
Not yet. We are still building our subscriber list.
How do you intend to promote your newsletter to increase subscribers? 
We will continue to promote it via Twitter, our public Knowledge Base and through postcard mailings to our current and potential clients. 
Forget Computers provide Macintosh technology management and support for IT and Creative Professionals. A way to improve their open and click-through rates and to quickly gain more subscribers is to create different campaigns. By branding campaigns with bespoke templates and segmenting subscribers, allowing them to sign up for the most relevant campaign/s, they can attract more subscribers who will stay longer and come back regularly. I am sure their website visitors and readers will appreciate the opportunity to subscribe for and receive selected information relevant to their interests and needs.
Segmenting subscribers is a smart way to see which topics are of greater interest. Nourish allows you to create different campaigns and using campaign statistics you will gain considerable insight into what works well for your newsletter and which aspects you can improve.
Nourish can help to provide your audience with the most relevant content. As always, I am here to help you get the best out of your Nourish newsletter, so do not hesitate to reach out if you have questions or doubts.
Found other creative ways to use Nourish? We certainly want to know about that! Let me know by emailing me at my[at]nouri.sh We'd love to showcase your newsletter as an example for our customers to see and learn from.
Stay creative!
One Response to "Featured Newsletter – Forget Computers Help People Work Smarter"
Ben Greiner Says:
August 12th, 2010 at 9:08 pm

Thanks for the mention!
Leave a Reply